BY SARAH STEPHENS, OWNER/EDITOR ELMORE/AUTAUGA NEWS
PHOTOS BY BOB EALUM AND SARAH STEPHENS
On Jan. 29, a huge crowd filled the RSA Activity Center for the 23rd Annual Central Alabama CrimeStoppers Awards Luncheon. Officers and first responders from across the state were nominated for awards, and those winners were front and center for recognition at the luncheon.
Jerome Jones, with Alabama News Network served as Master of Ceremonies. Jay Moseley, with the Alabama Fusion Center, served as Keynote Speaker. Presentation of law enforcement awards were handed out by Jalea Brooks, Alabama News Network and Rosanna Smith, Media Consultant. Director of Law Enforcement Relations Ray Wagner handed out special awards.
The following are those receiving awards Jan. 29, and the story behind their selection.
Autauga County Deputy J. C. Grant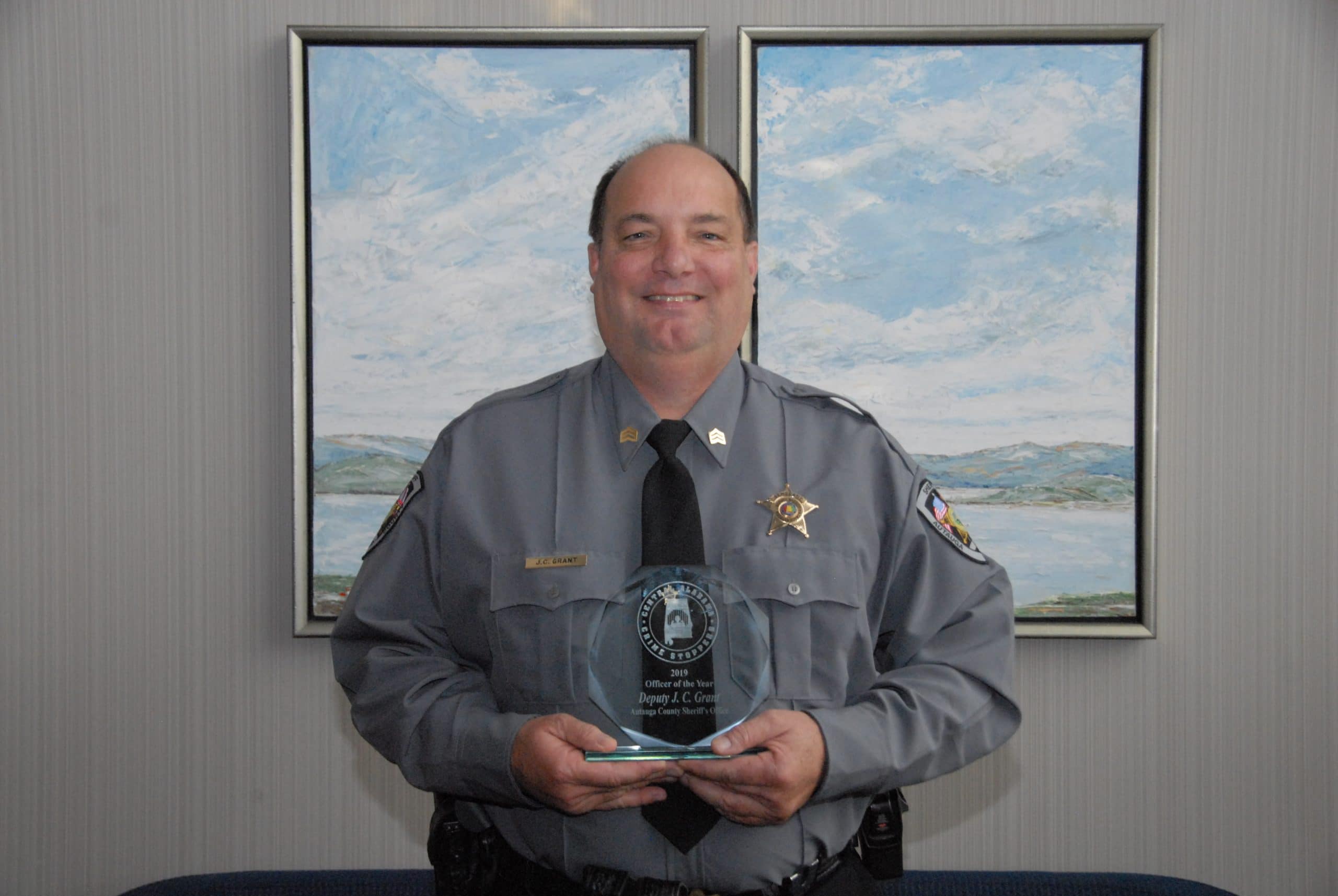 On August 7, 2019, Deputy Grant was dispatched to County Road 129 on a welfare check.  Upon arrival he spoke with the complainant, who stated that his neighbor was a US Veteran and was wheelchair bound with only the use of his arms.  The complainant further stated the Veteran's wife had abandoned him and was evicting him from the property, along with disconnecting the power and water to the residence.  With the victim being wheelchair bound and at home alone his hygiene was greatly compromised and was affecting his health.  Deputy Grant spoke with the Veteran who stated he was trying to find a place to live with no luck because he had no money.  Deputy Grant told the Veteran he would do some checking and would follow up with him the next day.
When Deputy Grant left the address on Co Rd 129, he went by the power company to try and pay (out of his own pocket) on the account to keep the power on for a few more days until he could get moved.  The power company would not take the payment because the account had been suspended.  Deputy Grant then went to DHR to see what assistance they could provide due to the Veterans condition and situation.  DHR advised they would contact Deputy Grant and the Veteran the following day.  Later that day the Department of Veteran Affairs contacted Deputy Grant and he advised him of the Veterans situation and condition.  The Department of Veteran Affairs informed Deputy Grant to contact the ambulance company to transport the Veteran to the VA Hospital in Montgomery, and Veteran Affairs would assist in the expense/care to have him transported.
On August 8, 2019, Deputy Grant along with DHR went to the Veterans residence to explain to him the assistance that has been offered.  The Veteran agreed to be transported to the VA Hospital for assistance.  The ambulance company was called the Veteran was transported to the VA Hospital for care.
Without Deputy Grant being so persistent in finding assistance for the disabled veteran, he would not have had anywhere to go once he was evicted out of his house.  Deputy Grant went above and beyond his call of duty to assist this Veteran, and that is why I am nominating him for the Central Alabama CrimeStopper Officer of the Year for the Autauga County Sheriff's Office.
Elmore County Sheriff's Office Sergeant Eric Bruner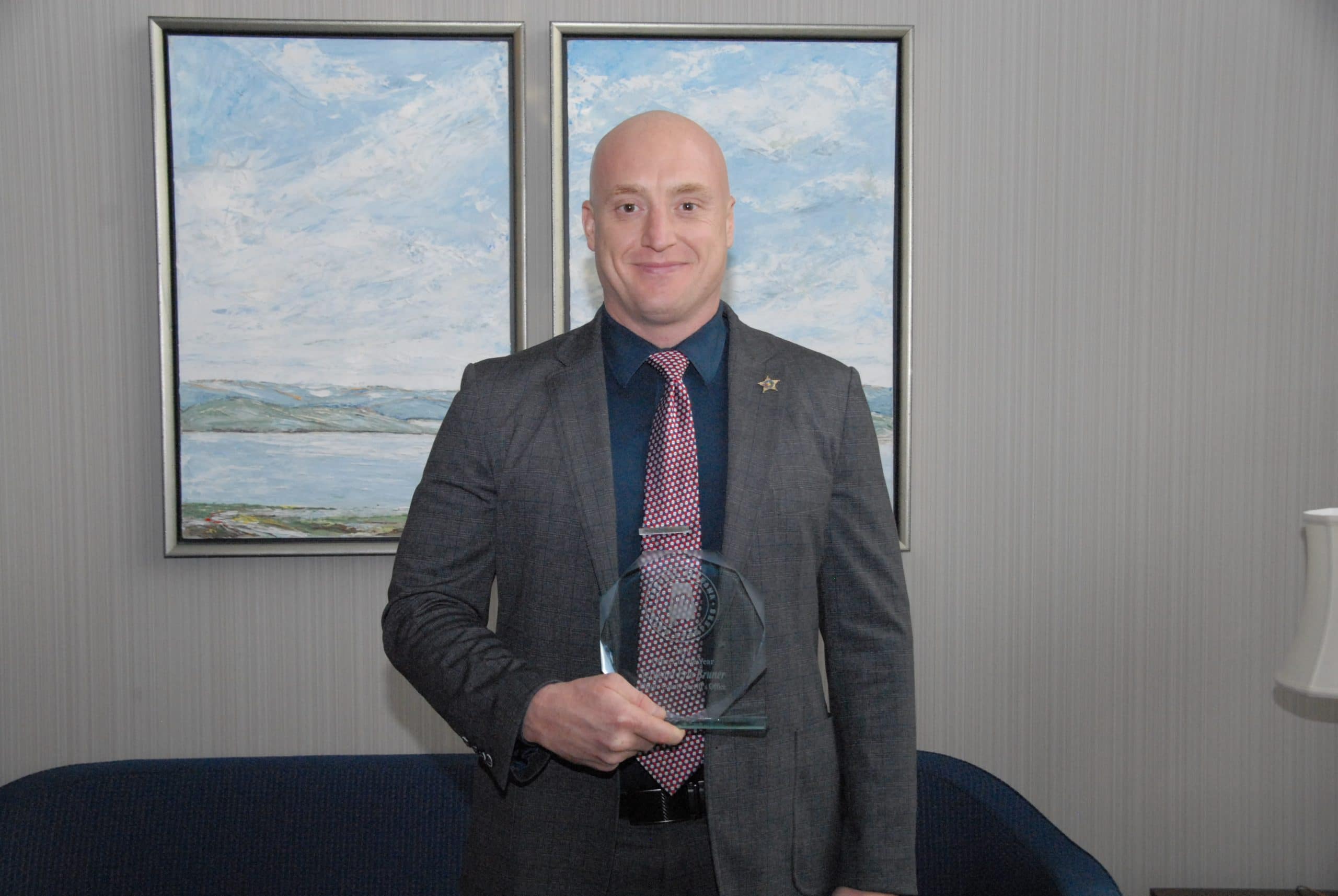 On July 4th at approximately 9:30 pm two boats collided in the Sear's Slough area of Lake Jordan. One vessel was occupied by a single individual, but the other boat was carrying a total of six people. Upon learning of this incident Sergeant Bruner, although off duty and with his family, immediately responded to the scene beating all other first responders to the crash site. While still in his personally owned vessel Sgt. Bruner located one victim of the accident and was able to tow the subject and his boat to the safety of land getting him to medical personnel as quickly as possible and preserving evidence that could have been located inside the vessel. After returning to the scene of the collision Sergeant Bruner realized that they still had two subjects unaccounted for and began to lay the groundwork for the recovery efforts that he knew would soon follow.
The following day when the recovery efforts resumed Sergeant Bruner took command of the situation as incident commander and oversaw a total of 28 divers and numerous first responders and civilian volunteers. Sgt. Bruner coordinated the efforts of all these different agencies and departments as well as making sure the physical needs of the individuals involved in the search were met. Sergeant Bruner also spoke to numerous witnesses and contacted cellular phone providers to get last known points for both boats. These actions were crucial in narrowing down the search parameters and ensuring time and resources were not wasted searching areas not likely to produce results.   On Saturday July 6th Sergeant Bruner resumed his command and was responsible for 19 divers and various other first responders and civilian volunteers. Sergeant Bruner and his team worked tirelessly throughout the day locating one body around 12:15 pm and the second subject at about 4:30 pm. Although the end result was tragic, Sergeant Bruner and his team did everything in their power to give the families closure by returning their loved one's body to them for burial. Unfortunately, in this case that was all anyone could hope to accomplish. Sergeant Bruner is the commander of the Elmore County Sheriff's Dive Team. This dive team is responsible for over 35 square miles of lakes and waterways within Elmore County. Under his supervision the dive team conducted six dive operations and participated in numerous training exercises in the 2019 calendar year.
Millbrook Police Department Criminal Apprehension Team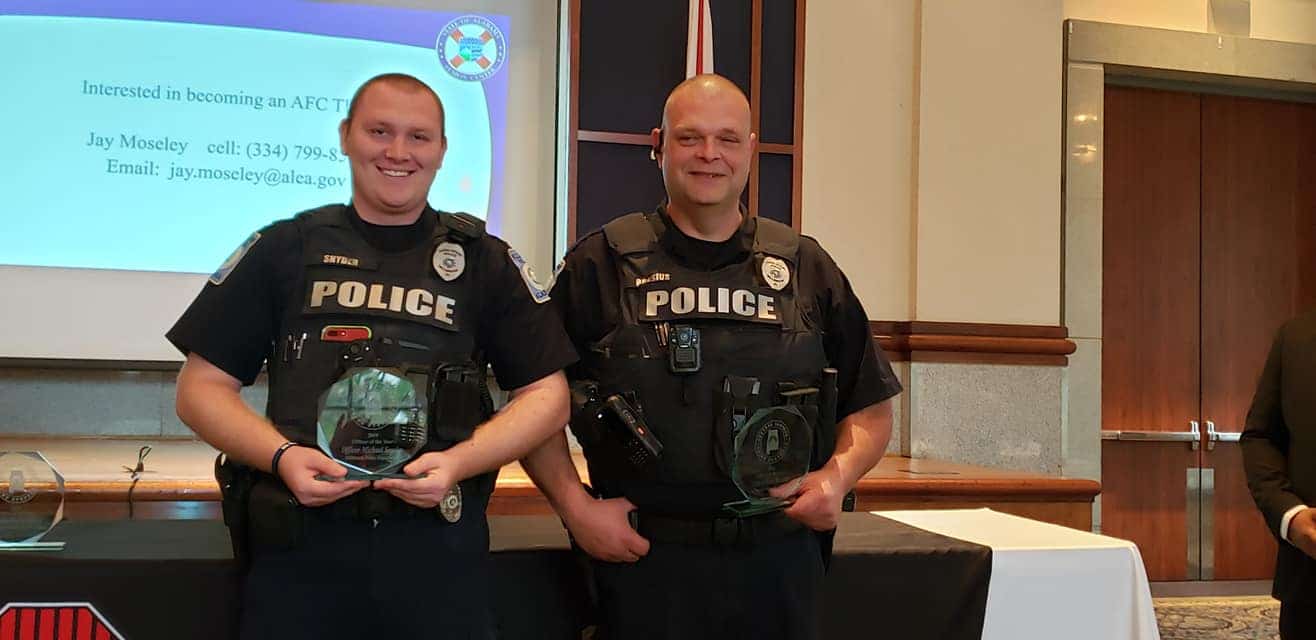 Officer Sean Brosius and Officer Michael Snyder
In late November of 2019, the Millbrook Police Department formed a unit comprised of two police officers, who would be tasked with serving outstanding arrest warrants and summons issued by the Millbrook Municipal Court. The unit is also assigned to transport offenders being held in the Elmore County Jail to the Municipal Court and to process and release offenders as ordered by the Court. Officers assigned to this detail must be willing to work a flexible schedule, as hours of operation and off days are subject to change based on the needs of the department. In addition to their warrant/summons service and handling Municipal Court duties, these officers are assigned to work special details as assigned by the Chief of Police. Those duties may include sporting events, parades and other special events, as well as special enforcement details targeting offenders committing crimes like Burglary, Unlawful Breaking and Entering and Theft of Property in specific areas.
In the Month of December 2019, Officers Sean Brosius and Michael Snyder worked their first month together assigned to this unit, which is now tabbed the CAT Team or Criminal Apprehension Team. The following are their numbers for the month of December:
56 Arrests
55 Traffic Citations Issued
50 Prisoner Transports/Bonds/Releases
22 Calls for Service in lieu of Patrol
35 Warrants Served
40 Subpoenas/Summons Served
During this month both officers filled in vacancies on patrol shifts to prevent overtime being paid to officers called in due to staffing issues. In just one month of service these two officers have demonstrated that they are both self-motivated and willing to make sacrifices based on what's best for the department. They have saved the department valuable overtime by being willing to work flexible scheduling to accomplish their mission, fill in on other shifts when called upon and most importantly they give the Millbrook Police Department the ability to consistently serve outstanding warrants of arrest in a manner that will hopefully reduce the number maintained in past years, as well as handle an ever growing Municipal Court schedule. Victims who have signed warrants will have those warrants served and face the alleged offender in their case. Those who have operated under the thought process that they don't have to worry about appearing in court or paying their fines ordered by the Court because serving warrants is not a priority…may want to rethink their position. These two officers have demonstrated by their motivation, work ethic and overall performance in a short period of time that they are dedicated to serving the citizens of Millbrook in an efficient and professional manner. For these reasons I am proud to recommend Officer Sean Brosius and Officer Michael Snyder to represent the Millbrook Police Department as Officer of the Year.  
Prattville Investigator Clint Lee
In December of 2018 Inv. Lee was assigned a case involving the theft of $22,000 cash. Investigator Lee followed up on the case and learned that it involved fraudulent practices of a local used car salesman. The original case grew into several cases and the scope of the cases were multijurisdictional. The cases involved the manipulation of title applications and the theft of vehicles from across state lines. The cases were all extremely complex and the numerous victims had been unsuccessful at achieving any legal remedy. The suspect was gifted at manipulating paperwork and making illegal vehicle transactions appear legal. The suspect was also manipulating title paperwork, defrauding multiple banks, and securing loans on the same vehicles several times.
After investigating the cases for approximately 1 year, Investigator Lee was able to secure state and federal prosecution of the suspect on multiple counts. Through the course of the investigation, Investigator Lee was able to discover over $500,000 in thefts through fraudulent dealings that had occurred in New York, Georgia and Alabama. Victims were located in New York, Florida, Georgia, Indiana, Alabama, and South Carolina. After years of being able to avoid legal recourse for his fraudulent practices, Inv. Lee was able to have the suspect held accountable. Investigator Lee's efforts not only brought some closure to the victims of these cases, but also prevented more people being victimized.
Montgomery Police Department Corporal R.M. Petipas
The actions of Corporal R.M. Petipas prevented an already dire situation from compounding into a catastrophic event. During an accident involving a number of factors that escalated rapidly, Corporal Petipas was able to quickly aces the situation, recognize the hazards and give clear directions to the citizen on the scene and an additional officer as he arrived. All of this was done while performing CPR on the unresponsive victim. Once Corporal Petipas was able to obtain a pulse on the victim, he began addressing the hazardous scene and directed the other involved citizens to a safe distance behind his vehicle, which he repositioned to block off an additional traffic lane. Corporal Petipas demonstrated calm, focused decisions and actions which not only affected the injure victim, but also prevented any further danger to the citizens on the scene.
Montgomery County Sheriff's Office Sgt. D. Alford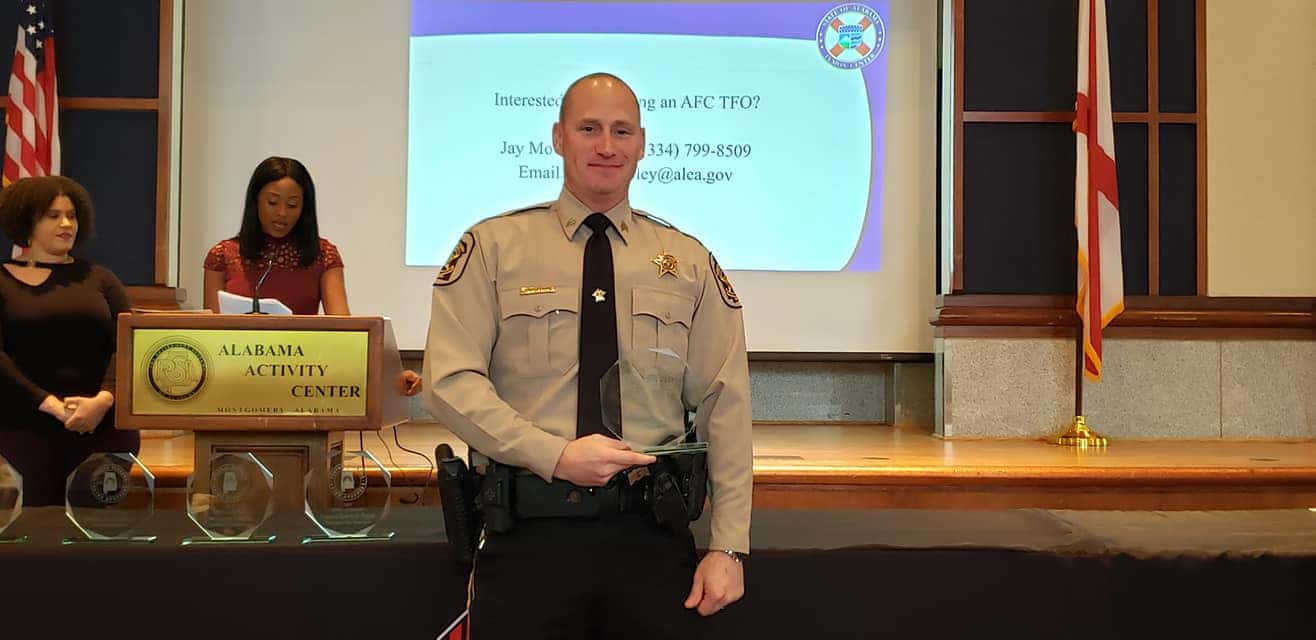 On 12-28-2019 Sgt. D. Alford was provided information concerning a suspect vehicle that was alleged to be heading to Montgomery. The vehicle was reportedly occupied by two subjects, Lance Rouse and Levi Lee, wanted in Washington Parish, LA for Attempted Murder, Robbery, Aggravated Assault, and Weapons Charges. Sgt. Alford directed Montgomery County units to an area to intercept the vehicle and responded as well. Sgt. Alford spotted the vehicle and with the help of Montgomery Police Lt. Dunn attempted to stop the vehicle. A vehicle pursuit ensued, and Sgt. Alford was successful in conveying his location and to direct county units to intercept the pursuit and deploy road spikes. This brought the pursuit to a safe conclusion. The suspects then fled on foot. Sgt. Alford was later able to take both suspects into custody after a foot pursuit and search. The victim later died and the charges were amended to murder. It was Sgt. Alford's experience, tactics, and professionalism that brought this pursuit and search to a safe conclusion without injuries to officers, citizens, or subjects.
PCO III White and Senior Trooper Puckett
At approximately 12:25 pm on August 23, 2019 a call came in to PCO III Jennifer White concerning a motorist who was having a mini stroke or more formally called Transient Ischemic Attack (TIA).  The symptoms of TIA include numbness in the arms and legs, slurred speech, disorientation, and sometimes blindness in one or both eyes for a period of time.  The driver, Benita Williams from Memphis, Tennessee, was experiencing all of the symptoms with the exception of blindness.   She was also driving a vehicle trying to find a hospital which put her, and others on the roadway, in risk of serious if not fatal injuries.
The driver's sister called the Trooper office hoping we could make contact with her sister and get her off the road and to a hospital. The sister also had Ms. Williams on the telephone as well allowing White to talk to Williams directly.  PCO White first tried to get Williams to stop her vehicle but she refused saying she had to get to a hospital.  White was then able to determine that Williams was westbound on US-72 somewhere in Colbert County but Williams was confused and unsure of her location.  White continued talking to Williams in an attempt to pinpoint her location.  The longer PCO White talked to Williams the more slurred her speech became.  Williams also indicated she was feeling numbness in her legs and arms. 
Initially it was thought that Williams was on AL-20 east of Muscle Shoals but Williams again refused to stop saying she had to get to a hospital.  Several minutes later Williams finally gave PCO White a road sign she was passing which indicated she was near the Colbert Steam Plant, 8 miles west of Tuscumbia.  PCO White was finally able to get Williams to stop her vehicle.  White then got Senior Troopers Scott Puckett and Carl Mitchell enroute to William's location in addition to calling Colbert 911 for an ambulance. 
Trooper Puckett got to Williams first.  Williams was experiencing slurred speech, numbness in the arms and legs, and was becoming less and less responsive. Puckett asked for an eta on the ambulance, but there was no response from 911.  White repeatedly asked 911 for an eta but none was given.
At this point, given her worsening condition, Trooper Puckett made the decision to put her in his patrol car and take her directly to Helen Keller Hospital.  When Puckett did arrive at the hospital, PCO White had already briefed the ER staff on her symptoms and they were waiting at the door to take her inside and begin treatment.
I talked to Ms. William's husband on Sunday the 26th.  He said his wife was getting better and thanked us for all that we had done.  He confirmed that his wife had a history of TIA but had never experienced them while she was traveling alone and out of state.  He was also extremely grateful to Trooper Puckett for calling and keeping him updated on his wife's condition at the hospital as he drove in from Memphis.
Ms. Williams's physical and mental condition had deteriorated to the extent that unless her symptoms reversed on their own, the likely outcome would surely have been a vehicle crash involving one or more vehicles.  However, due to the professional way in which PCO III Jennifer White and Senior Trooper Paul Puckett performed their duties, the most favorable outcome for the situation they were presented with was achieved. 
The lifesaving actions of PCO III White and Senior Trooper Puckett on August 23rd exemplify the best of what ALEA is about.  I would ask for your consideration in recognizing these two employees for the way in which they performed their duties during the incident.
Union Springs Police Dept. Corporal Alexander Swanson
Corporal Alexander Swanson, an officer with the Union Springs Police Department, has distinguished himself by demonstrating exemplary initiative and service to the community and is eligible to receive an award for his accomplishment. Alexander Swanson was patrolling on December 18, 2019 when he noticed a driver of a vehicle not wearing a seatbelt while operating a motor vehicle. After approaching the vehicle, a strong odor of marijuana was present. The driver stepped outside the vehicle and attempted to flee from Corporal Swanson. The two engaged in a brief altercation. The suspect was arrested. A large quantity of drugs was taken with a large amount of cash. The suspect was transported to the Union Springs City Jail. Chief Danny Jackson nominated Corporal Swanson for his distinguished service.
Tuskegee Police Department Officer Tyshawn Shephard
On 10/30/2010 at approximately 1951 hours Officer Tyshawn Shephard responded to a local business in the 400 block of Martin Luther King Junior Hwy in reference to shots fired in the business. Officer Shephard arrived within moments of receiving the call and was the first responder on scene. Without a second thought, Officer Shephard immediately engaged multiple subjects that were actively engaged in a physical altercation fighting for the possession of the firearm of which was fired inside of the establishment just prior to Shephard's arrival. Ofc. Shephard tactfully secured the firearm and detained the individuals involved in the incident until back up arrived on scene. Thanks to Shephard's swift and courageous actions, officers were able to prevent any loss of life and to safely apprehend those responsible for crimes committed during this offense. Multiple arrests were made for Aggravated Assault, Disorderly Conduct, Reckless Endangerment.
It is for this act as well many others throughout the course of this past year that Tuskegee Police Nominate Officer Tyshawn Shephard.
Officer Tyshawn Shephard has been with the Tuskegee Police Department Patrol Officer since February of 2019.
Troy Police Department Sergeant Eric Ernsberger
Sergeant Ernsberger began his career with the Troy Police Department as a dispatcher in 1999.  He began working as a patrol officer in 2002 and in 2005 he was assigned to the criminal investigation division as a narcotics investigator.  He was promoted to Sergeant in investigations in 2016.  Sergeant Ernsberger continues to perform his job at a high level with professionalism and compassion.  He sets a good example for other officers to follow.  He is very dependable and can be relied on to get the job done in the toughest conditions.  While there is not a single incident that earned Sergeant Ernsberger this nomination, he is responsible for hundreds of felony arrest during his career taking many dangerous criminals off the street and out of our community.  We are proud to have Sergeant Ernsberger as a part of our team.
Tallapoosa County Deputy Isaiah Taylor
Isaiah Taylor has fulfilled a lifelong dream as he was deputized as a Tallapoosa County Deputy Sheriff.
Taylor raised his right hand as he took his oath of office from Tallapoosa County Sheriff Jimmy Abbett and said "I do."
Taylor, 17, who is Reeltown junior with cerebral palsy, was sworn in as an honorary Tallapoosa County Sheriff's Department deputy in front of his family, classmates and hundreds of officers from surrounding law enforcement agencies
"Because of his continuous bravery in the face of a relentless evil disease. For being an inspiration for everyone that wears the badge and making each Law Enforcement Officer remember when they first wanted to serve and protect, we award Deputy Isaiah Taylor the 2019 CrimeStoppers Officer of the Year!"
Trooper Jason Fox
In the early hours of Saturday, August 17, 2019, Trooper Jason Fox of the Huntsville Post, Madison County, was investigating a two-vehicle hit-and-run type crash where the victim had followed the offender, to her residence.  Trooper Fox arrived at 12:29 am at Sagebrook Drive, Madison, AL where Madison County deputies were standing by.  The offender was inside her residence and would only communicate with Trooper Fox from the other side of the door.  She refused to open it and was generally uncooperative.  After numerous failed attempts to have her come outside to speak with officers, Trooper Fox heard her yell, "Who is it? You're knocking too loud! Come on in."  He opened the front door and immediately observed a female with a towel over her head and pointing a .22 caliber firearm to her temple.  In response to this unexpected turn of events, Trooper Fox yelled to deputies "GUN!", immediately took cover, and began speaking to the woman in a calm manner to diffuse the situation.  Trooper Fox continued to remain calm and maintain control over the situation even though the woman made statements indicating she had, "already missed once, but wouldn't miss again."  Due to Trooper Fox's manner of communicating with the offender, he was able to coax her into removing the gun away from her head and place it on the floor.
The offender then picked up the firearm and moved to a couch.  Trooper Fox again persuaded her to put the gun down which she did by placing it on a box but within arm's reach.  She continued to make verbal suicidal threats and refused numerous requests from Trooper Fox to walk towards officers standing at the front door and away from the firearm.  Fearing she would grab it again; Trooper Fox discussed a plan of action with assisting officers.  This plan included using a taser to incapacitate her long enough for deputies to restrain her and take possession of the firearm. Trooper Fox was able to deploy the taser though one prong did not make contact.  Still, this was enough distraction that deputies were able to retrieve the gun and detain her without injury or further incident.  She was then transported to Huntsville Hospital for evaluation and treatment.
It is the opinion of this writer that Trooper Fox's quick thinking and decision making ultimately resulted in the most favorable outcome to a spontaneous and unexpected emergency situation. Due to the actions taken by Trooper Fox, all of those involved, including deputies, left the scene without injury.  More importantly, his actions ultimately resulted in preventing the offender from ending her own life and aided in obtaining the appropriate medical assistance she desperately needed.
Shane Hobbs, Pilot; Jerod Peak, Co-pilot; Greg Rankin, Flight Officer/Hoist Operator; Cpl. Tim Martin, Flight Officer; Bill Bevan, Rescue Flight Officer
On August 14, 2019 at approximately 8:50 am the Montgomery aviation base received a call from Anniston PD in reference to a rescue in Calhoun County on the eastern bypass. A single vehicle crash had occurred sometime the previous night.  The SUV was occupied by a 33-year-old female who left the roadway and traveled approximately 1,500 feet down a ravine where it struck large rip rap and overturned. The female was knocked unconscious and was entrapped. When she woke up the following morning she was able to locate her cell phone and call 911. Anniston PD and Anniston Fire Rescue responded as well as a Lifesaver air medical helicopter. As we arrived on scene ground rescue personnel were still in the process of cutting her from the vehicle.  We inserted a rescue flight officer via hoist and began orbiting the scene awaiting extraction.  Once extracted from the vehicle, stabilized and packaged on a backboard we conducted a hoist lift and landed on the roadway where she was repositioned to the awaiting Lifesaver helicopter. Known injuries were head and neck as well as chest trauma. We then conducted a hoist extraction of a paramedic that was suffering from a heat related injury.
Several Special Awards were also presented
Montgomery City School Resource Officer Corporal D. M. Thornton
Is recognized for exceptional service for his role as a School Resource Officer. He is credited for creating working relationships with his students and the community surrounding his school. These relationships contributed to the arrest of criminals in multiple theft and vehicle burglary cases surrounding his school during the 2018-2019 school year.
Corporal Thornton's skills and professional performance are a credit to the Montgomery Police Department, the school system, and the community he serves.
Thank you for a job well done!
Asset Protection Specialist Jason Burns
Asset Protection Specialist Robert Furlong
They are recognized for exceptional service for decreasing crime throughout the State of Alabama in the calendar year of 2019. Jason Burns and Robert Furlong decreased theft and fraud on a statewide level by providing information that identified multi-jurisdictional shoplifters and scam artists by sharing information during monthly meetings and through a social media app. Both were nominated by 292 of their peers through the Coalition Against Retail Theft Program.
Asset Protection Specialists Jason Burns and Robert Furlong's skills and professional performance are a credit to the organizations where they are employed. We thank them for making Alabama a better place to live.
WSFA Reporter Bethany Davis
WSFA Reporter Bethany Davis is recognized for exceptional service for her efforts in obtaining information that solved a nine-month-old vehicle hit and run death investigation. In February of 2019 a vehicle struck a 79-year-old female and left the scene.  The female was pronounced dead on the scene. Bethany Davis took a personal interest in the story.  Reporter Davis continued to do updates on the story as much as she was allowed. Her persistence paid off when she requested that the story be aired again during CrimeStoppers November Action Line.  After an early morning, on the scene, re-cap of the story, an anonymous tip identified a suspect.  The suspect confessed after the arrest.  The anonymous tipster credited the morning interview as a reason for turning in information that they had been holding on to.
Bethany Davis is to be commended for her exceptional work and for showing true compassion for the community that she serves.
Outgoing CrimeStoppers Board President Karl Wade
Retired Trooper Lt. Karl Wade served unselfishly as the President of CrimeStoppers, leading the organization to much success. During his tenure, the organization began covering the entire state where needed. Currently there are 25 departments with agreements with CrimeStoppers, and another 25 set to come on board by March. Wade's service to CrimeStoppers is deeply appreciated. CrimeStoppers Executive Director Tony Garrett thanked Wade for his dedication and tremendous leadership.